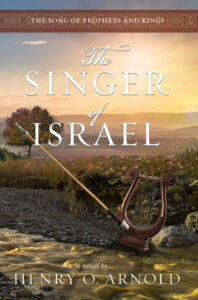 Written by Henry O. Arnold
Published by Whitefire Publishing
Published: November 2022
Reader: Henry O. Arnold
The third installment of the biblical fiction series
"The Song of Prophets and Kings"
SYNOPSIS:
A singer's voice inspires a troubled nation…
A shepherd's courage vanquishes a giant
The last official act of the prophet of Yahweh was to secretly anoint a replacement for the king of Israel who has been brought low by an unbalanced mind. The great prophet of Israel lives in fear of the wrath of the king. Then out of the hills of Bethlehem emerges the last-born son of a family of shepherds to become the unforeseen hero of Israel.
When David sings of the glory of Yahweh, this shepherd wins the hearts of the royal family and restores King Saul's troubled mind. But when the singer/shepherd defeats the champion of the Philistines in single combat, David becomes forever known as "the giant-slayer." Saul quickly sees that David is now a threat to his kingdom and secretly plots to have him killed.
David may be the champion of the people of Israel, but he must live under the constant threat of Saul's wrath until he is finally forced to flee for his life.
The Singer of Israel is a tale of triumph and tribulation, deepest love and burning rivalries; the new epoch is given a voice…and it is The Song of Prophets and Kings.
And be sure to check out the first two volumes in this series: A Voice Within the Flame and Crown of the Warrior King.
Comments Off

on The Singer of Israel
November 15, 2022