Video
Directed by Ken Carpenter
Distributed by Vision Video
Written by Chip Arnold
Role: Jesus
Release: 1997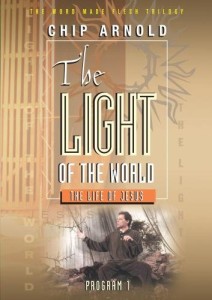 SYNOPSIS: A great story may be told thousands of times and still touch us again and again. Such is the timeless power of drama and the truth of storytelling. The Word Made Flesh series captures these familiar Biblical stories with passion and new meaning for today's audience. This contemporary film trilogy, written and performed by Chip Arnold, presents the lives of Jesus, Paul, and David through three one-man stage presentations. There is no doubt that the stories will stay with you long after the performances have ended. One hour each. "The Light of the World: Jesus" follows the story from the Jordan River to its end at the Mount of Olives. Meet His disciples, feel His compassion, listen to His teaching, and share in His suffering.