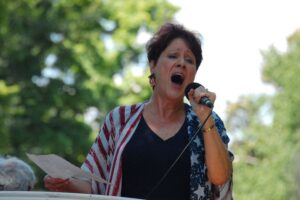 A family tradition began 44 years ago on Whitland Ave in Nashville, Tennessee. My father and mother were a part of a small group of people who wanted to celebrate each July 4th in a special way. Over the years the program varied, which included my sister Nan Gurley singing patriotic songs.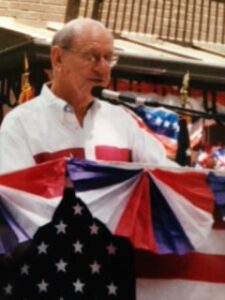 But there was always one constant: my father would read from the Declaration of Independence while members of the Nashville Symphony would play Aaron Copeland's "Ode to the Common Man."
When Dad departed this life, the mantle was passed to me. I still wear the shirt he wore, read the same words he read, and experience the same thrill he experienced each year. I could not be more proud of my parents, Bud and Bernie Arnold, and the great legacy they left their family and the community they loved.
A shout-out to Wayne Gurley for the photo of Dad at the July 4, 2000 celebration (his last time), Nan Gurley in 2018m and to Michael Scott Evans for this cover photo of me at the 2021 July 4th celebration at Whitland Ave.