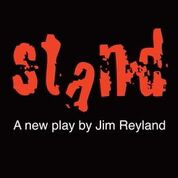 A little game my three siblings and I played as kids was poking one another with a finger and then running away as fast as possible. We hated it when one of us got poked by the other…a fear of the transference of cooties perhaps. The victim would complain to the parent within earshot that so-in-so "touched me." If a threat was even perceived by an approaching sibling the immediate response was DON'T TOUCH ME! And back in the day when there were no seatbelts, when we got into the car to go anywhere, we would draw invisible lines across the backseat and threaten the offender with mayhem should they cross said line and touch the other. Today we can't hug each other enough.
A few years ago I was asked to perform a one-man show I had developed from the Gospel of St. John, similar to what British actor Alec McCowen had done with the Gospel of St. Mark, for a chapel service at the Nashville Rescue Mission, an organization devoted to serve Nashville's homeless population. I had agreed to do the performance months in advance, but when it came time, I regretted having said yes, and found myself struggling to summon any enthusiasm. I was tired. I was unmotivated. On the drive to the Mission, I toyed with a number of creative excuses I could use to get out of it at the last minute without just pulling a no-show. I even grumbled to God, ending the conversation with, "I'll go through with it, but I don't have to like it." If I was hoping my little complaint might invoke a divine change of heart, it was not in evidence when I got out of the car and entered the building, or went through the sound and light check, or faked half-hearted interest in the chaplain's sincere attempt at conversation, or watched as the six-hundred seat auditorium filled to capacity.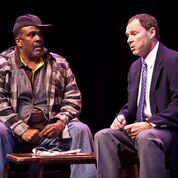 Some level of joy began to seep in as I performed the play, but it was hampered by the constant wheezing and coughing and sneezing and yes, snoring, that echoed in the room during the presentation. It was like audible sounds of diseases cavorting and cultivating in a giant Petri dish. I appreciated the occasional interjection of laughter at a humorous moment and the enthusiastic applause at the end, but it was not enough to help me overcome my initial resistance.
This was not the traditional theatrical venue to which I was accustomed, and after the performance the chaplain asked if anyone wanted prayer. So many men came forward that he asked for more staff to help with the penitents. The brokenness displayed by those who came forward began to dissolve the crust around my heart…a little. Then came a surprise. The chaplain announced that if any of the men would like to greet me that I was happy to meet them. Whoa there, partner, I thought. I'm an actor not a minister. I like that aesthetic distance between audience and performer. This meet and greet was breaking the "fourth wall" convention of separation between audience and performer. When the service was dismissed all I saw were swarms of infections converging upon me. There was no escaping. "Iacta alea est" (The die has been cast).  I would make a doctor's appointment first thing in the morning.
I shook hand after hand with a frequent chest-bump for extra emphasis. The joy of these homeless men at meeting me was undeniable if not reciprocated. But the sucker-punch came when the last man in line stepped forward: scraggly beard, wooly red knit hat unraveling around his moist face, a big smile revealing the evidence of a lengthy hiatus in the dentist chair.  I extended my hand, but he swung his arms behind his back like he wanted to play a kid's game where I had to guess which hand held the candy. "You don't want to touch me, man," he said.  "My hands are dirty. I'm dirty." Then he gently laid his chin on my shoulder, apparently the one area of his body he decided was clean enough for human contact, held it there for a second, and then quickly disappeared into the crowd.
I was brought low. I had not wanted to be here. I had not wanted to be touched. Do the gig and go home, was my only thought. Now I was immobilized by such humility and awkward kindness; a nameless man respectful enough to be conscious of his "uncleanness" so as not to touch me any more than was necessary to express his love to me. I was in a room full of homeless men and I was the one who felt unclean, abandoned, all safety nets removed from beneath me, unworthy to be in their presence.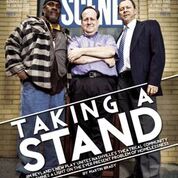 I have not been back to perform since, my cowardice the likely cause. But now I am returning to the scene of my own crime, so to speak. I am privileged to be in a two-man play with Barry Scott entitled "Stand," written by Jim Reyland. It is the story of the friendship of two men, one homeless, one a Good Samaritan type, both broken in their own right, and their personal struggle to find healing and redemption in the warp and woof of their dynamic, sometimes contentious relationship. There is a preview performance at the Rescue Mission September 19, 2015, followed by daytime performances for local high schools that next week, and ending with three public performances September 25 & 26 at Tennessee Performing Arts Center. After that, we will be doing a multicity tour through the month of October. I encourage everyone reading this post to come and be "touched" by the power of the bond between one unclean man who challenged the confidence of another who came to feel unclean.
For more information on the Tennessee Performing Arts Center's September 25 & 26 performances, click this link and watch the trailer for "Stand."