I was sitting in the middle of church one recent Sunday, minding my own business, drifting in and out wakefulness, but at least I was in church. Mom and Dad would be proud and relieved. It must have been a moment in the sermon when I had drifted out because my ears suddenly pricked up when the preacher said, "Solvitur ambulando." I thought the preacher had gone to swearing in Latin, but after he offered a quick explanation of the phrase (it is solved by walking), I was now awake. I don't remember the sermon or the point the Latin phrase was to have illustrated, but as soon as the "Amen" was spoken, I went home and began to dig deeper into its meaning.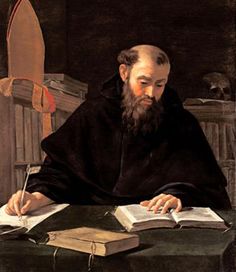 The concept goes back to the Greeks philosophizing over the certainty of motion (Did any of these guys ever have a job?). Zeno posed the problem of whether or not motion was real, and Diogenes got up and walked out of the room. Offended by Diogenes' rude exit, Zeno asked what he was doing, and Diogenes responded by saying he had just proved that motion was real. See what chaos ensues when one philosopher gets bored with another? Centuries later, St. Augustine of Hippo coined the expression into its Latin phrasing inferring that theological issues of the heart, soul, and mind are better "solved by walking" instead of yammering on about them.
I have a distinct memory of one of my extended walks from the days of my youth. I was seventeen, and my mother and I were having an intense argument: the straight and narrow vs. the free spirit. I don't remember the specifics of the disagreement—there were so many during my "angry young man" period—but the result was that I stormed out of the house with my mother on my heels, crying and pleading with me to come back. I kept walking. As I briskly made my way through the backyard looking for the quickest escape route, Mom's pleading intensified, but to no avail. I spun around to tell her to just leave me alone and watched as she collapsed onto a wooden bench behind the garage, her face pinched-red and skin drenched in tears. This Madonna/Child drama might have inspired an artist's rendering of a divine moment, but did not, however, cause me to fall to my knees in repentance. I turned and kept walking. She did fire one parting shot: "Please don't smoke while you're gone." As soon as I was out of sight, the cigarette pack and the lighter came out, and for the next several hours, I smoked nonstop. It was daylight when I left the house. It was dark when I got home…reeking of cigarette smoke. I may have smelled like a tobacco barn, but my anger had been "solved by walking," at least this particular flareup of anger. There was still a deep well of rage and rebelliousness in reserve, and I'm sure my parents would have preferred me to just keep walking for the next several years.
I act and write for a living, and like most people when they are not working, choose to spend time enjoying a hobby. My hobby list is a short one: I read, so the shelves are stocked, and I hike, so the closet floor is piled with appropriate footwear. I live a low-maintenance lifestyle. When I'm not sitting in my leather chair reading a good book, I'm either on a trail or plotting the particulars for my next hiking adventure. I hope my last days on earth are spent walking with the gait of a man who still has places to go.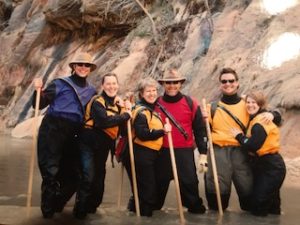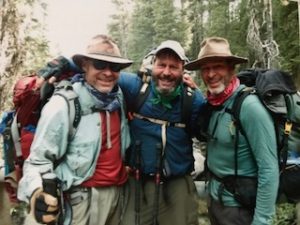 Over the years I have been able to take great hikes in the mountains and valleys and forests of my country and in several other countries. I will hike alone or with companions. I have a dear memory of seven days spent with my brothers, Cris and Tim, on a 37 mile backpacking trek in the mountain wilderness of northern Oregon. When we are together: "What's spoken on the trail, stays on the trail;" a brother's pact that we will take to our graves. Another favorite hike was with Kay, our daughters, and our sons-in-law in Zion National Park. What astounding beauty we saw traversing the Virgin River through the slot canyons of southern Utah.
Then there are the serendipitous opportunities of hiking with strangers. Last year I was hiking the first seventeen miles of The Way trail over the Pyrenees from France into Spain and met up with a young man from Bosnia. He spoke enough English that we could carry on a conversation. He was currently unemployed and intended to hike The Way trail through Spain in hopes of figuring out his life. I may have disillusioned him when I told him that, at twice his age, I was on a similar quest though hiking with less angst. Or the couple from India, their one-year-old child strapped to his father's back, hiking up the Rob Roy trail in southern New Zealand. I remember their bright faces, and that we laughed at our inability to communicate with words. We did not need words. Enjoying the beauty of the ancient forests and towering glaciers required no human language skills.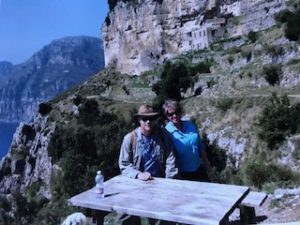 My favorite hiking companion, of course, is Kay. One of our best hikes together was the "Pathway of the Gods" trail in the mountains along the Amalfi Coast. Kay does, however, draw the line at certain levels of strenuousness; smooth paths and modest inclines are her hikes of choice. She has threatened my demise more than once when a trail has surprised us with an unexpected steep incline. The act of walking is a healthy, discharging process of mind and body, and my therapist wife tells me that when bilateral stimulation occurs it opens up the neruo pathways between the two sides of the brain. They are talking to each other. This phenom of brainwave conversations seems to happen during REM sleep, but she suggests that the left/right pattern of walking can also produce similar, positive effects.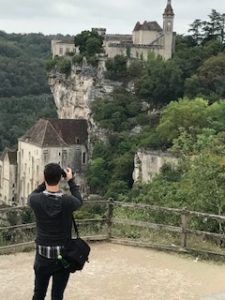 On our recent trip to France we visited the village of Rocamadour. The village sits on a rocky plateau above the Alzou valley in southern France. The 12th century village appears as if carved out of the limestone cliffs. From the Basillique at the base of the cliff a path leads to a giant cross at the top. For more than eight centuries people have trod up this steep path, some on their knees, pausing at each turn to view a sculpture depicting a station of the cross signifying Christ's ascent up the hill of Golgotha. The artistic homage given to this extreme example of walking made me ponder how our interpersonal turmoils, or the conflicts of the soul, or even our creative endeavors might best be "solved by walking," instead of pharmaceutical alternatives or all-out combat.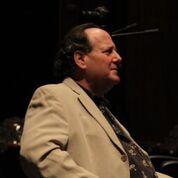 I am currently touring in a two-character stage play entitled "Stand" written by Jim Reyland. Barry Scott plays a homeless man named Johnny, and one of the lines in the play that Johnny repeats is,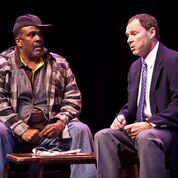 "A man can't be a man unless he's walking." My character befriends Johnny, and the two men set off on the difficult journey of forging a camaraderie. It is the stuff of good drama. At its heart, it is the story of two strangers becoming "known" to one another. "I was a stranger and you took me in," Jesus said, describing one of many acts of mercy. The root meaning of the phrase is "gathering me into the bosom of your family." The two men in "Stand" come from different places of brokenness, but by choosing to walk together, building relationship and learning from one another, they begin to find peace and healing for their souls. At different points in the story each man must hold up the other when the walking becomes wearisome. They are latched on to one another in a beautiful bond of friendship. The story of "Stand" is about many things, but ultimately it is two men proving the theory of motion by walking side-by-side through the complexities and conflicts of human emotions.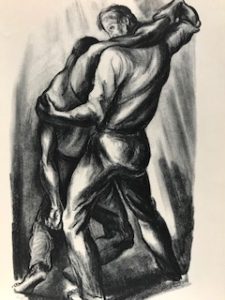 I started with the Greeks, so I'll end with a famous quote from Socrates, "The unexamined life is not worth living." By walking together as friends, the two characters in "Stand" examine their lives in all its forms of weak humanity and conclude that the true meaning of friendship is to hold each other up in love regardless of the circumstances or the outcome.
There are three public performances in Nashville of "Stand:" October 27 & 28 at 7:30 p.m., with a 3:00 p.m. matinee on the 28th. Location is the 4th Story Theatre at West End United Methodist Church, 2200 West End Ave. For ticket information please visit www.westendumc.org/stand