Many years ago I had to suffer through a procedure with a doctor. No, it was not an operation I had to endure, but an exposure to insufferable ignorance. The doctor had been asked if he would consider becoming a board member for a non-profit theatre of which I was associated. He said, "Actors are such phony people; they just turn their emotions on and off at will." Following that logic, I almost turned on my "fury" emotion and cold-cocked him, but then after he had come to, the good doctor would have likely said I had just proven his point. I did not give him that satisfaction, but the incident has obviously remained in my memory. People who turn on an emotion at will are usually trying to manipulate you. They are the phony ones. The invitation for the doctor to become a board member was withdrawn.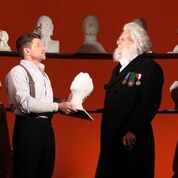 More recently I was asked by a good friend how I was able to channel emotions into a character. Emotions are a tricky thing and often produced honestly when real life circumstances dictate. What actors do, whatever their methodology or technique, is to create a character whose emotions are genuine when they react to the circumstances of the story. The initial impulses we have as humans to any situation are usually the most genuine. They may not be the best reactions to have but still the most honest. Actors are in touch with their emotions and know how to imaginatively apply them in the artistically controlled and safe haven of the theatre or film. They incorporate their own emotional life into the character they create, which brings truth to that character and makes him or her believable. No audience wants to spend time or treasure watching anyone "pretend" to do anything. You don't expect a doctor to pretend to operate on you, or a sports team to pretend to compete.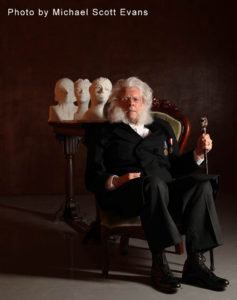 I have been the recipient of another great gift in the role of Henrik Ibsen in the play "Posterity" by Doug Wright. It is a privilege when an actor is given a character that experiences multi-layers of emotion. The opportunity for a role such as this is the reason I became an actor, that and the fact I was just not suited for any other profession.
Here is a quick blurb about the play and the particulars:
Nashville Repertory Theatre's production of Posterity, by Doug Wright. Live onstage at Tennessee Performing Arts Center's (TPAC) Johnson Theater, February 11th through 25th, 2017 with previews February 9th and 10th.
Take a world renowned Norwegian playwright, Henrik Ibsen, near the end of his career, and force him into a room with Norway's favorite sculptor, Gustav Vigeland at the peak of his, whose ambitions require him to persuade a reluctant Ibsen to sit for him. Their battle begins. Debating what a person's true legacy is – the work achieved during our life or how our loved ones remember us – unexpectedly teaches them something fundamental.
A startlingly beautiful play, these two explore a complex yet basic human question: who will I be to posterity? Initially developed with the support of Nashville Rep's Ingram New Works Fellowship, this is the regional premiere of the play by Pulitzer and Tony winner Doug Wright. (This production contains brief nudity.)
 Let me say two things about the "brief nudity" clause: 1) models pose for the sculptor and in this production all the naughty parts are covered, and 2) I'm not the one doing the modeling much to everyone's relief especially Kay's.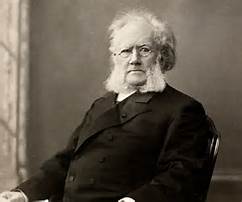 Henrik Ibsen is the father of modern theatre. In the late 19th century, Ibsen's plays brought a realism and truth to theatrical storytelling that had not been so forthright since Shakespeare's time. His characters were multifaceted and complicated, and he was the first great playwright of the modern theatre to portray the complexities of female characters and fearlessly put them on stage to the outrage and consternation of society.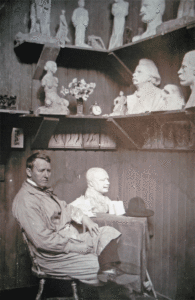 For his part, Gustav Vigeland did the same with his sculptures. He is Norway's most famous sculptor with an 80 acre park in Oslo aptly named "Vigeland Park" that is filled with 194 of his sculptures with more than 600 figures. When asked why all these figures were sculpted in their "natural" state, he said that clothing locks the image in a specific time. I would add that it also conceals the depth of emotion. There is a fierceness and sometimes overwhelming power to his statues. To paraphrase a line in "Posterity" the sculptor has "…built a full and bracing drama in his own imagination and peopled it with an appropriate hero."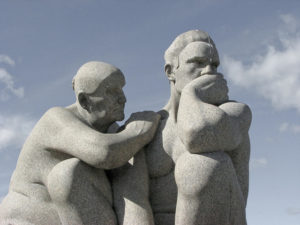 How might you be remembered? It is a big question. In the past when I have taught writing classes, I have asked the students to write their obituary. This play examines a person's "posterity" in ways that are unexpected and illuminating. Doug Wright has done his job by writing a brilliant play. The director and actors are tasked to breathe life into the characters of the story that is truthful not feigned, the designers are tasked to create a realistic environment that transports the viewer into another world and heightens the live-body action on the stage. The quality of those jobs will be done and done well. And as for the audience…you are a vital part of the creation. Art demands that it be experienced by an audience. Art cannot happen otherwise. Sitting in a darkened theatre, watching and listening to great storytelling sans mobile device, sans social media, sans all things electronic and entering into a shared experience with hundreds of other people might just expand your soul in ways you never imagined.