I recently turned sixty-five, and while it is a milestone of sorts, it did not really seem worthy of a big celebration. Ten thousand of us Baby-Boomers turn sixty-five every day, so big deal. For a number of years I considered getting a tattoo to mark the occasion. My daughters and their husbands all have tattoos and they have been very encouraging of the idea. Even my mother got a tattoo on her eightieth birthday, which I thought was way cool. I even toyed around with some designs I thought I might like that included varied symbols referencing the spiritual, the aesthetic, and the familial. When Kay and I went to New Zealand last fall and saw some indigenous peoples who had taken the concept of family tree to a whole new level by tattooing the ancient images of their family tribe on their necks and faces, I decided my family tree could be better displayed in a picture frame and not on my flesh.
I am very slow to make decisions when it comes to upgrading technology that might improve my daily life. Living in a high-speed, full-scale digital cosmos does not appeal to me. I still use a flip-up phone and I don't text; my reading material comes in magazine, paper or hardback forms; I play pool, poker, and pinball not video games, and I have a high-definition antennae on the top of my house that gets me about a dozen free channels two of which I might watch. And when people have tried to get me to open a Facebook account so I could potentially have a half billion friends, my eyes just glazed over. On the rare occasion I received a "friend" request in my e-mail inbox, I just deleted it without so much as a twinge of guilt.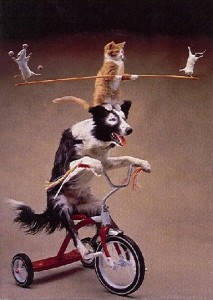 I live like an animal, you say, but no more. This old dog has decided that he can learn a new trick. Not only did I have a website designed for my professional work, I also joined the Facebook team to make it a half billion and one…at least for a split millisecond of time. Now to all of the professional Facebookers out there who know me and my disdainful, even snarky, attitude about participating in such social media forums (much like the nay-sayers in the early days of television who considered the technological phenomenon a "vast wasteland"), I deserve all the slings and arrows of snide commentaries you care to throw at me. Be brutal. Be brutal. I accept the barbs.
So on the day of my birth instead of Kay dropping me off at a local tattoo parlor for my birthday tat, she dropped me off at Sam and Zoe's to meet Jill Lafave, my web designer, and have her set up my Facebook accounts. And in the twenty-four hours or so of going "live" I have received over one hundred "friend" requests. I take that to mean that you are not holding any grudges about my scornful attitude in the past now that I have been "born-again." But I still don't know what to do with this flood of requests. I have already forgotten my password and have had to request a new one. If I don't properly "friend" you back, trust me, I have not back-slid into my former snarky ways, I just have limited skills of navigation in this wide, wide world of the web we all live in.
While my journey from cave-dweller to enlightenment is still a relatively short one on the evolutionary highway of social media, I have made those first initial (or fateful) steps. Who knows? Someday I may trade in my flip-up for an iPhone…but I will NEVER text, and I still might get that tattoo.