In the first three months of 2015 two significant events took place in my life that will resonant with me for the rest of my life. I had been preparing for the role of Willy Loman for months leading up to the first day of rehearsals for Nashville Repertory Theatre's production of "Death of a Salesman," and on February 20 we began. This was the role of a lifetime. My preparation was strenuous but necessary for me to feel I could begin on the first day of rehearsals and look my fellow actors in the eye and respond truthfully with the emotional life of the character, as well as absorb the brilliant insights into the story provided us by our director. After three-and-a-half decades of marriage my wife, Kay, can attest that when in production, I immerse myself in the process.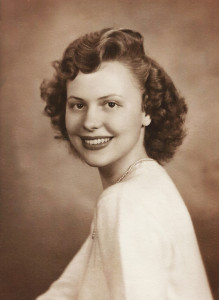 The second and more profound event was the sudden death of my mother just four days into our rehearsals for the play. Mom was in relatively good health, but after she suffered a number of seizures ten months earlier, my siblings and I decided she no longer needed to live alone (our Dad had died in 2002), and though Mom initially resisted the move, she saw the wisdom of transitioning into an assisted living arrangement. Mom ended up enjoying her new "home" and the freedom and care she had while living there.
The Sunday night before she died was the night of the Oscars. I intended to watch the first hour then go to bed because of an early rehearsal call the next day. When J.K. Simmons won the Oscar for Best Supporting Actor for "Whiplash," and gave his wonderful acceptance speech praising his wife, kids, and then his parents, I was moved. I am fortunate enough to have been parented well, to have married well (above my station, most would say), and to have participated in the rearing of two wonderful daughters. As Mr. Simmons expressed thankfulness that his children possessed more of the admirable qualities of their mother than of him, I too acknowledged my gratitude to Kay sitting on the sofa beside me that the deep gene pool of her virtues had dominated in creating the DNA of our girls.
But the moment of great conviction came when Mr. Simmons went on to praise his mother and father for their contribution in shaping him into the person standing on that stage. The man who held the Oscar expressed humble gratitude to the most important people in his life ending with his parents. Mr. Simmons' last words were, "…Go call your Mom and your Dad and thank them. Don't text or e-mail them, but call them and listen to them for as long as they want to talk to you." That was enough for me, and I rose from the sofa and told Kay I was going to call Mom.
When Mom answered the phone in her bright, cheery voice, I naturally thought she was watching the Oscars and was anticipating this call from one of her children. However, she informed me that she had just come in from having dinner with one of my brothers and his wife, thus the vibrant "hello" when she picked up the phone. So I explained to her how Mr. Simmons had inspired me.
"Mom, I wanted you to know how thankful I am for your love and encouragement over the years. You and Dad always cared for me and supported me. You rarely missed a performance of the shows I've been in. And while I'm excited about getting to play Willy Loman, I'm thankful not to have lived his life. That's because of you and Dad."
As I was about to settle in to "…listen to [her] for as long as [she] wanted to talk to [me]," she responded with: "Oh Sweetie that is so nice of you. I love you too and am so proud of you and appreciate what you've just said, but "Downtown Abby" is about to start and I need to go to the bathroom so can we wrap this up?"
All I could do was burst out laughing. It was a perfect Mom moment. There would be other opportunities for a mutual-admiration-society chat so we said goodnight and hung up. Some time that night, I assume after watching the latest episode of "Downtown Abby," she went to sleep and her body released her spirit. Since my mother liked to sleep late each morning, the nurse at the assisted living did not discover her until mid-morning the next day.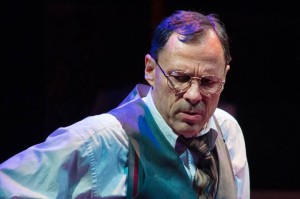 At the beginning of each rehearsal day I silence my phone, and since I don't text, there was no way to get through to me. We were about three hours into rehearsal and the director called for a break and told me I should check my phone for messages. Kay had to text the director and tell her that Mom was in a coma and taken to the hospital.
While driving to the hospital knowing that now my mother was on life support with no chance of recovery this continual loop of our conversation the night before kept playing in my head, and all I could do was whisper my thanks to God for heeding Mr. Simmons' admonition to call your parents; an admonition spoken just to me and not a billion other people watching the show.
In the weeks that followed, I don't know how I got through the rehearsals or the run of "Death of a Salesman." I knew the experience of Mom's passing was mysteriously informing my own creative work, but I couldn't explain how. When people would ask me how I was doing or how was I getting through it, I could only shrug, and with a look of perplexity, simply say, "I don't know."
One might think my world was shattered, but it wasn't. After my wife, my mother and father have done the most to mold and shape my character for better or for worse, but mostly for the better. I don't really understand how that happens except that on my best days I was willing to receive the goodness, the kindness, the faith, the love these three people continually gave to me and allow those qualities to sink deep into my soul providing me with a solid foundation for life.
In a Q & A session with the cast after one of the performances, I was asked by an audience member how I prepared for the role of Willy Loman. I mumbled something unintelligible. I had been talking almost nonstop for nearly three hours on stage and I had no words of my own. Before the director came to my rescue, I was able to utter, "I just lived long enough…"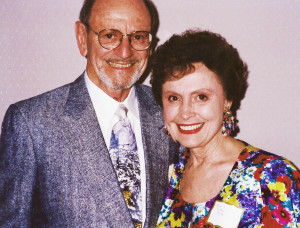 God gave me two extraordinary gifts in these first three months of 2015: the gift of Willy Loman and all the wonderful theatre artists who collaborated to make "Death of a Salesman" a remarkable work of art; and the gift of that final phone conversation with my Mom the night before she shuffled off her mortal coil. Mom made a grand exit. She was a great lady. She and Dad left her children a noble legacy. Going forward my art and my life will be forever enhanced by her memory.