My dear friend passed into eternity a year ago. We spent so much time together on and off stage telling stories, sharing burdens, dreaming of heaven. In this one-year anniversary of Barry shuffling off his mortal coil, I want to share the final story Barry shared with me just a few days before he left us.
The last time we spoke just days before his passing he said, "I got a story for you." He was energized. His voice was a mere rasp of its former power, but the joy he was feeling at the moment gave him strength. "You ever heard of the Kings of Junk?" I told him no. "They came to my house today. I had a bunch of stuff in my garage and they came to clean it out. A few minutes before they were to arrive, I went out to the garage to open it up. I had to climb about three steps to get to the door to unlock it. I got to the bottom step and I couldn't lift my leg to start to climb up. I tried and tried, but I couldn't climb. I didn't have the strength and my brain wasn't communicating to my leg. So I sat down and used my arms and climbed up the steps backward on my butt. But when I got to the door, I couldn't stand up. So I sat there and waited for the Kings of Junk to arrive.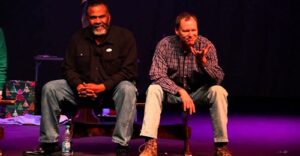 When they arrived the man in charge came around to the side entrance and I told him the situation. He asked what he could do for me. I told him I need to be carried into the house. So the King of the Kings of Junk wrapped his arms around me and lifted me up and he helped me back into my house. Once in the kitchen, the King held me against his chest. He just held me, until he gently sat me down in a chair. Then he knelt in front of me and looked into my face, really looked at me. He saw me, saw inside of me, saw the broken me, and he said, 'Can I do anything else for you, Mr. Scott?' I swear, Chip, it was like I looked into the face of Jesus."
I told Barry this story would be added to his collection of great stories. He needed to tell that story. He said I needed to come to church and we would tell our stories together. I said, who would listen to two old men telling stories? He said, "Men need to hear our stories together. Men need to tell their own stories to one another. Men need to hear and know that they are loved by God and that they are loved by us. Men need to look other men in their eyes and ask is there anything else I can do for you? Men need to know that in weakness they have strength, in pain they have power, in sorrow they have joy, and in God they have love everlasting."
I miss my dear friend, but I will see him again. Death has its sting, but it is not forever.